PHOTO OPPORTUNITY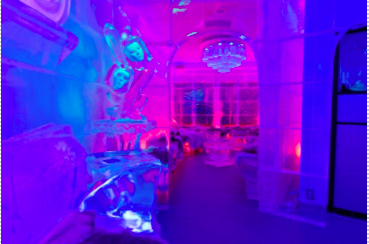 (Photo courtesy of Minus5° Ice Experience)

Minus5° Ice Experience at The Venetian Resort, Minus5° Ice Experience At Mandalay Bay and ICEBAR at The LINQ Promenade Announce New Ice Construction from June 8-11

WHAT:
Ice construction of Minus5° Ice Experience at Mandalay Bay and The Venetian Resort and ICEBAR at The LINQ Promenade, will begin June 8. When completed on June 11, each attraction will feature new art pieces and themes throughout each location.
WHO:
With three Las Vegas Strip locations, Minus5° Ice Experience and ICEBAR allows guests to chill with more than 100 tons of ice while exploring an immersive attraction featuring themed sculptures and instragrammable moments. Each attraction offers a distinctively chill, family-friendly vibe for people of all ages, with signature frosty cocktails served in glasses made entirely of ice for guests age 21 and older.
FUN FACTS: 
Ten ice carvers with an average of 25 years of experience each will use everything from chainsaws to precision ice-carving tools to construct new art displays at each ice lounge.

New blocks of ice will be used in the construction, each ice block weighs 250 pounds, requiring four men to lift and hoist into place.

 

Prior to arriving in Las Vegas, the ice was created by utilizing a special process that removes all air bubbles, resulting in the clearest ice possible. 


Minus5

°

Ice Experience and ICEBAR is kept at 23-degrees Fahrenheit with a technologically advanced climate-control system that can make continuous adjustments to account for body heat or changes in humidity. 
WHEN:
Daily, June  8-11
9 a.m. to 7 p.m.
WHERE:
Minus5° Ice Experience at The Venetian Resort
3377 S Las Vegas Blvd.
Las Vegas, NV 89109
(702) 293-3388

Minus5° Ice Experience at Mandalay Bay
3930 S Las Vegas Blvd.
Las Vegas, NV 89119
(702) 740-5800

ICEBAR at The LINQ Promenade
3545 S. Las Vegas Blvd.
Las Vegas, NV 89109
(702) 489-3545
WEBSITE:
www.Minus5Experience.com
PRIVATE EVENTS:
For private events at Minus5° Ice Experience and ICEBAR. Please contact Candace Bowman at candace@minus5experience.com
SOCIAL MEDIA: 
Facebook and Instagram: @Minus5Experience
Twitter: @Minus5IceBar
HASHTAGS:
#IceIceBaby
#Chillin
MEDIA CONTACTS:
Vanessa Thill/Erika Pope 
The Vox Agency
vanessa@thevoxagency.com, erika@thevoxagency.com  
(469) 226-4723, (702) 249-2977 
                                                                                                 #     #     #